KRPano grouped thumbnails plugin
KRPano grouped thumbnails plugin
This plugin can show thumbnails, grouping and support scenarios.
Download: http://pan. Baidu. com/s/1dFj7v0l
Instructions for use:
Plug-in, we have two files, auto_thumbs. XML and ToolTip. XML,

Auto_thumbs. XML is in charge of group scenes show
ToolTip. XML is responsible for displaying tip text.
1. copy the plugin to the plugins folder, in a project in the XML, add the following statements to display thumbnails of the scenes:

2. If you want the scenarios can be grouped, you only need to add album properties in the XML file.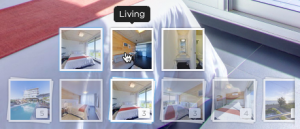 For example, the following code:
In scenario 1, scenario 2 are grouped into album1, scene 3, scene 4 are grouped in the album2.
Detailed description: https://krpano. com/plugins/userplugins/autothumbs/#top
Tip: If you need for commercial use, please go to website to purchase on their own, thank you.
This post was published on: http://www. krpano. tech/archives/387
Posted by: dragon slayer
Reprinted please specify the source, thank you!